I really like the carrot cake. I think you are familiar with this delicious, aromatic biscuit with nuts and raisins. I wanted to do something similar, only in the form of muffins. And today I bring you a quick recipe for a delicious, gluten-free vegan dessert.
You are interested? Let's start then.
Our muffins are based on gluten-free oat flour. Finding the right option is not easy. Sometimes oatmeal with bitterness comes across. So I make the flour myself. To do this, you need to take oatmeal that requires cooking and grind them in a coffee grinder.
For liquid, we take any vegetable milk, preferably without sugar and additives. I use my own oat milk in my recipe. You can use almond, coconut, cashew. But this will change the taste of muffins.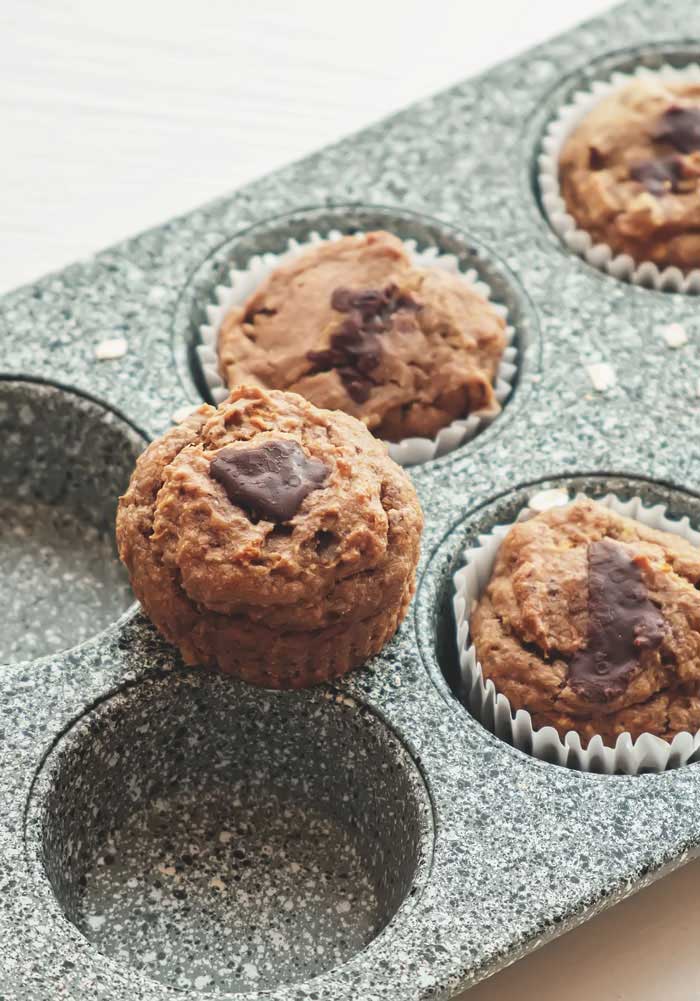 Also used as a liquid ingredient in the recipe is banana puree. Banana gives a unique taste and aroma. Of course, it can be replaced with any fruit puree, but it will be a completely different recipe.
Coconut oil gives our muffins softness. Carrots, raisins, walnuts will create a unique texture. The thickener in our recipe will be light flaxseed flour. Grind flax seeds in a coffee grinder.
For sweetness, I wanted to take coconut sugar. I love its caramel flavor. But at the time of making the muffins, it was over. So I decided to use an erythritol and sucralose sweetener. You can use whatever sweetener you like. The main thing is to correctly calculate the proportions. More on this in the recipe note.
To create airiness, we use a baking powder.
How to make carrot muffins
Turn on the oven 350ºF. We combine all the bulk ingredients: oat flour, ground flax, baking powder and sweetener. Grind the bananas in a blender. Add walnuts, oat milk, melted coconut oil to the resulting puree and mix thoroughly with a blender. The nuts can be chopped separately, but this is faster and the result is the same. Transfer the resulting mixture to a high container and combine with bulk ingredients, grated carrots and raisins.
We put paper inserts in the form cells. Using a pastry bag, fill the mold to 3/4 of its volume. You can do more, the dough will not rise much during baking.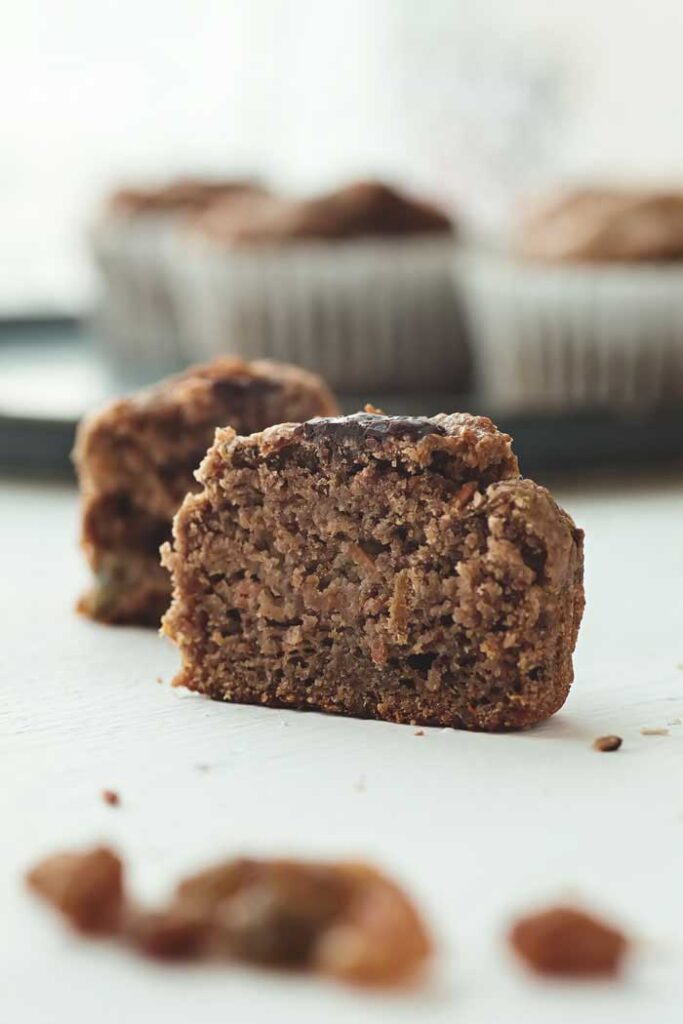 We bake our muffins for 20 – 25 minutes until tender. Check with a toothpick, match or wooden skewer. Take out the finished muffins from the oven and let them cool for about 15 minutes. If desired, decorate the muffins with small pieces of chocolate on top. The muffins will still be warm and the dark chocolate will melt to form a frosting.
We cool our dessert to room temperature and enjoy delicious pastries.
The recipe is simple, does not require any exotic products and special skills, but very tasty and healthy.
Try to cook, you won't regret it!
Bon Appetit!
Enjoy!
Have you made carrot cake or muffins?
Be healthy and love yourself!
Vegan gluten-free carrot muffins
Course: Recipes
Cuisine: American
Ingredients
140 g – oat flour, I made from cereals


1 tbsp – ground light flax

80 g – ripe banana puree, can be replaced with apple

140 g – oat milk or any vegetable


30 g – coconut oil (melted), can be replaced with another vegetable

1 tsp – baking powder

2 g – sweetener, erythritol with sucralose

70 g – grated carrots

50 g – raisins

30 g – walnut


10 g – sugar-free dark chocolate (optional)

Preparation
Turn on the oven 350ºF.

We combine all bulk ingredients, oat flour, ground flax, baking powder, sweetener.

Grind bananas, walnuts with oat milk and melted coconut oil in a blender.
Combine liquid ingredients with free-flowing, grated carrots and raisins.
Put the resulting dough into molds using a pastry bag.

We bake in the oven for 20 – 25 minutes.
Remove from oven and let cool for 15 minutes. Place pieces of chocolate on the muffin surface.

Cool muffins to room temperature.

We are enjoying a delicious dessert.

Notes
When making the muffins, I used a concentrated erythritol sweetener. The recipe requires 2 g. It is 10 times sweeter than sugar. (So ​​we would need 20 grams of sugar). Consider this amount of sugar when calculating your sweetener.