We all know that chocolate is a delicious and healthy product. Homemade chocolate is especially valuable as it is made by hand. You know exactly the composition of the product. And you can always change the amount of ingredients to get a new flavor.
Chocolate it happens dark, milky, or white. And also, with different fillers. It all depends on your imagination.
You can pick up the homemade dark chocolate recipe here.
And today we are going to make white chocolate without refined sugar.
Ingredients for white homemade chocolate
So, you need three ingredients to make white chocolate.
the main component is cacao butter. Which one (manufacturer) does not matter. The main thing is to keep it fresh.
the sweetener in our recipe is coconut sugar. You can replace it with any bulk sweetener.
It is important to take into account that liquid sweeteners such as honey and syrups will not work. They do not combine with cacao butter. And after solidification, the sweetener is separated from the cacao butter.
By the way, liquid sweeteners work well for making dark chocolate.
almond flour. It will give our chocolate a pleasant nutty taste. You can replace it with any chopped nuts.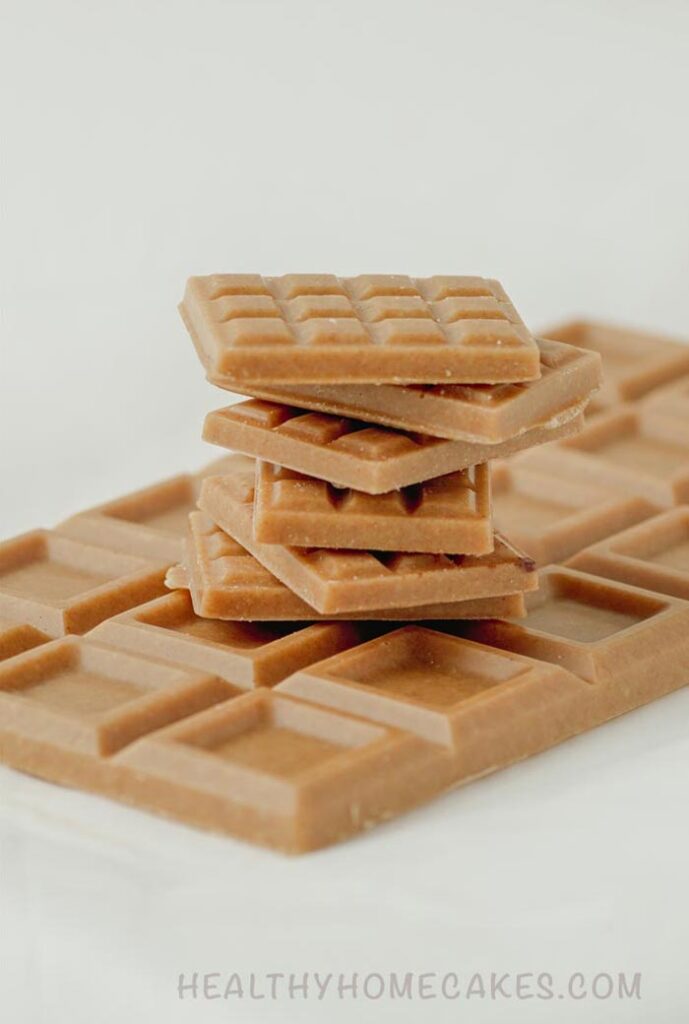 So, we have prepared the ingredients. And now we can start cooking.
How to make white chocolate
We will cook delicious homemade chocolate without special equipment. We will need: a saucepan, a bowl (metal or glass), a silicone spatula and a cooking thermometer or pyrometer. Temperature measurement is indispensable. You can do it by eye, but the result may be unexpected.
So let's get started.
First, grind the sweetener in a coffee grinder or blender to a powder. In our recipe, this is coconut sugar.
Then pour some water into a saucepan and bring to a boil. While the water is heating, rub on a coarse grater or cut the cacao butter with a knife. We transfer it to a bowl. We also send chopped coconut sugar there. And put the container on the pan. At the same time, the water should not touch the bowl.
Set the almond flour aside for now. By the way, I do it myself. To do this, I grind the peeled almonds in a blender or coffee grinder.
Let's go back to the process of making our white chocolate.
Stirring with a silicone spatula, cacao butter and coconut sugar, wait for the whole mass to melt.
When the butter melts, we measure the temperature. The chocolate heat up to 45 ° C / 113 ° F. As soon as we bring the mass to this temperature, remove the container from the pan and add the almond flour. Mix everything well.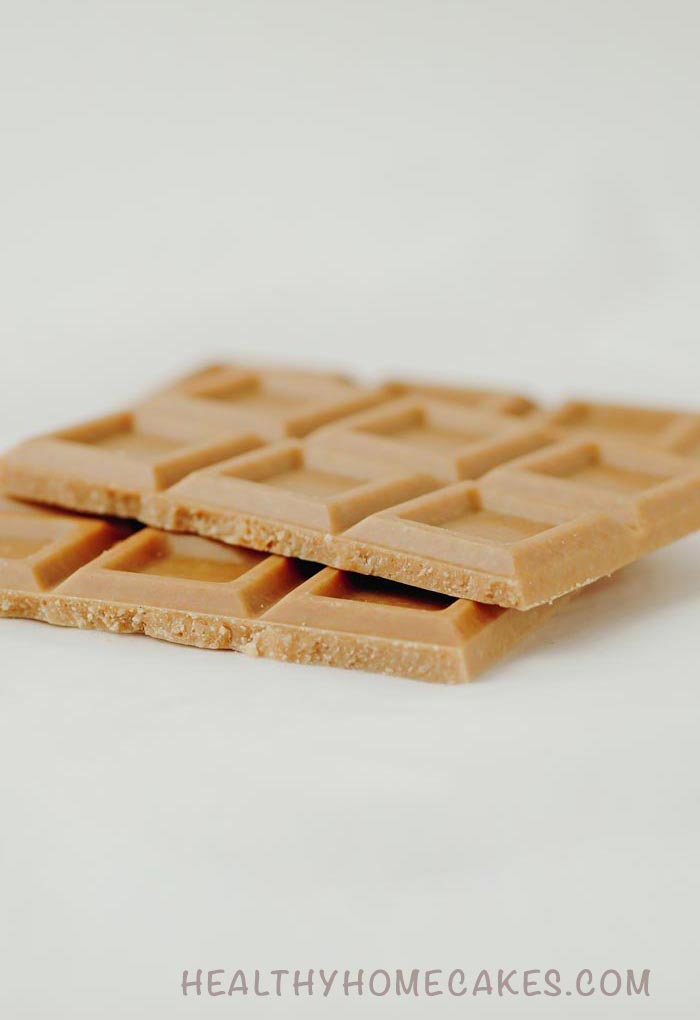 Now we need to chill the chocolate to 25 ° C / 77 ° F. Pour the entire mass into another container. And stir the chocolate with a spatula until it cools down to the desired temperature.
After cooling, pour the chocolate into molds. It is convenient to do this with a pastry bag. Forms must be clean. Plastic, polycarbonate, or silicone are suitable. Also, the mass can be poured onto parchment.
Let the chocolate freeze for 15 – 20 minutes on the table. Put it in the refrigerator for 1 hour to solidify completely.
It is not recommended to use glass or ceramic dishes as molds. It is very difficult to remove frozen chocolate from such dishes.
When our chocolate has solidified, we proceed to tasting.
I must say that this is a very pleasant moment!
Here's a simple recipe for delicious homemade white chocolate. It can be taken as a basis by swapping almond flour for other additives. Chopped fruits (raisins, dates, dried apricots, dried cranberries, prunes) or a variety of nuts.
Try to cook. And write your impressions in the comments.
Enjoy your meal!
Be healthy and love yourself!
White homemade chocolate (Refined sugar free)
Course: Chocolate, Vegan
Cooking time
1
hour
30
minutes
Ingredients
70 g – cacao butter


3 tablespoons (40 g) coconut sugar


2 tablespoons (30 g) – almond flour

Instructions
Grind coconut sugar in a coffee grinder to obtain powder.
Rub cacao butter on a coarse grater or finely chop.
We put everything in a bowl. We put the bowl on a saucepan with hot water and, stirring constantly, melt the mass. It is better to stir with a silicone spatula.
When the cacao butter is melted, check the temperature. We are waiting for the mass to heat up to 45 ° C / 113 ° F.
Add almond flour.

Remove the container with chocolate from the water bath and start the tempering process (cool the chocolate to the required temperature).

To make the mass cool faster, you can transfer it to another container.
Stir constantly with a spatula and cool the chocolate to 25 ° C / 77 ° F. When the required temperature is reached, pour it into molds.

If you have carried out the tempering process correctly, the chocolate in the mold will solidify in 15 to 20 minutes.
After that, we put the forms in the refrigerator for 1 hour to solidify completely.

Enjoy a natural homemade product!

Notes
For sweetness, only bulk sweeteners are suitable. They must first be crushed into powder. Do not use glass or ceramic dishes as a mold