These Apple Cinnamon Blondies are very airy and delicious. These soft apple blondies are refined sugar free and vegan. I did blondies for the first time and the result exceeded all my expectations. It is impossible to tear yourself away from this delicious dessert. Even after two days, blondies are soft.
The apple blondies recipe is similar to brownie. Instead of cocoa with chocolate, this dessert contains apples, cinnamon and nutmeg. It doesn't take long to make apple blondies.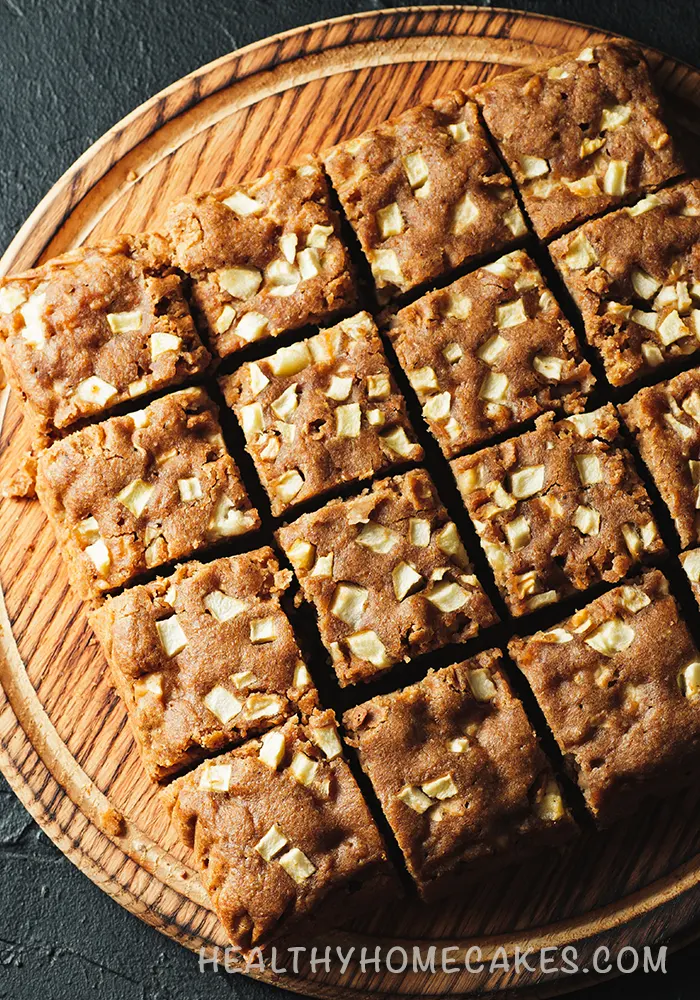 Apple Cinnamon Blondies Ingredients
Whole wheat flour. This flour works well for any baked goods. It contains a lot of fiber. If you don't like gluten, replace it with gluten-free oat flour. But the taste of blondies will be different.

Almond flour. Adds flavor and softens texture.

Coconut sugar sweetener in apple blondies recipe. Any sweetener will work instead. Add what you like to the dough.

Refined olive oil. With oil, everything is simple. Take any herbal product.

Cinnamon and nutmeg. Or at least cinnamon.

Vanilla extract for added aroma.

Water or unsweetened vegetable milk.

Apples are the sweetest and most aromatic. Or what they are.

For the airiness of the dough, baking powder.
In addition to the ingredients, you will need a square shape 20×20 cm and parchment. And a spacious bowl with a spatula.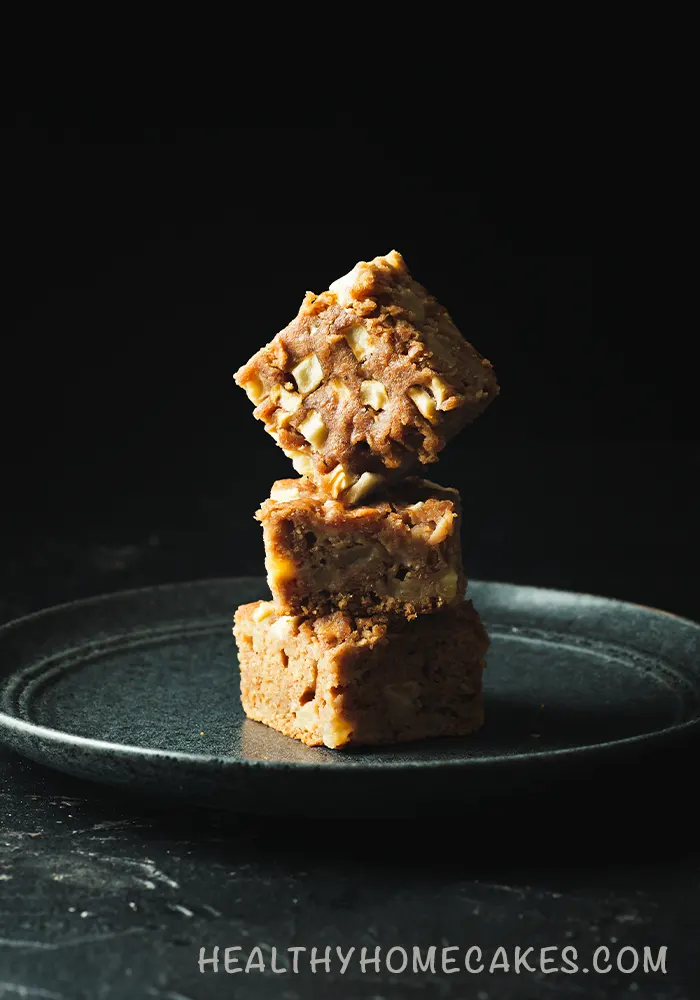 How to make Blondies
We will make apple dough for blondies in one container. The cooking process is simple and quick.
Mix all dry ingredients first. Whole wheat flour, almond flour, baking powder, coconut sugar, cinnamon, and ground nutmeg. Then cut the apples into 5 – 7 mm cubes and add them to the free-flowing ingredients. Now stir in the water, vanilla extract and refined olive oil to the flour mixture.
Using a spatula, spread the finished dough evenly over the shape. Before that, put parchment in the mold on the bottom and sides. I use one sheet of parchment. Bake the blondies apple for 30 minutes at 180°C / 350°F until the middle is firm.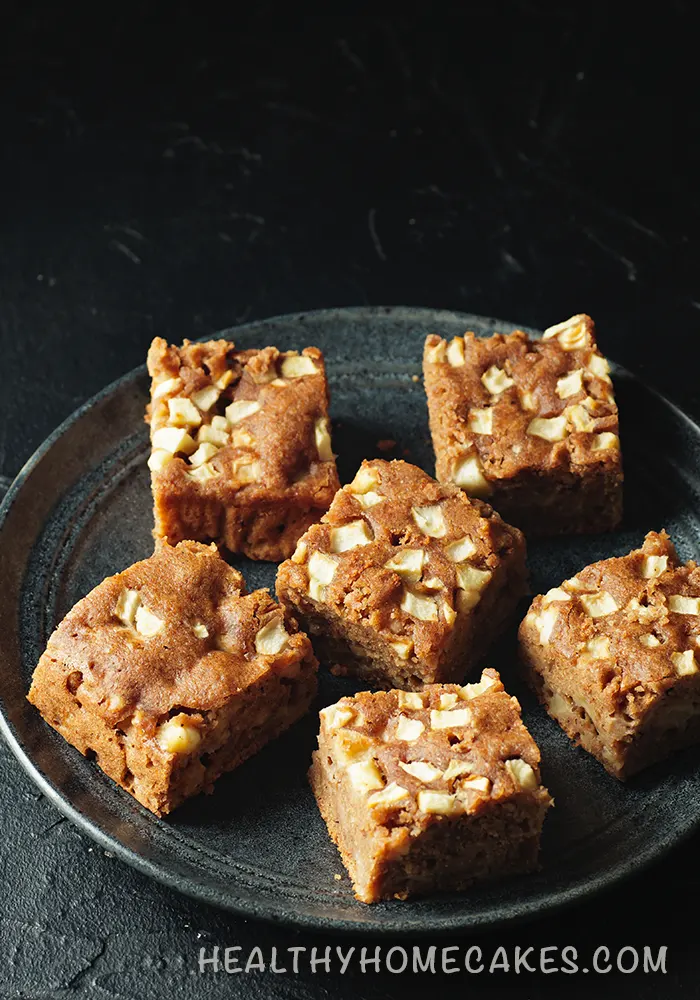 Cool the finished Apple Cinnamon Blondies on a wire rack. After cooling, cut into slices and enjoy.
Apple Blondies Tips & Tricks
If you want to make blondies gluten-free, go for oat flour. Oatmeal is also good for this. They just need to be ground in a blender or coffee grinder to a state of flour. You can use any cereal, instant or old-fashioned.
Store apple blondies in a tightly closed container in the refrigerator for seven days. For long-term storage, put blondies in the freezer.
That's all. Our quick and delicious dessert is ready. Make and write your impressions.
Enjoy your meal!
Be healthy and love yourself!
Apple Cinnamon Blondies (Vegan, Refined sugar free)
Course: Vegan
Ingredients
1.5 cups (200g) whole wheat flour


2/3 cup (70g) almond flour

5 tablespoons (70g) coconut sugar

4 tablespoons refined olive oil

200g water or unsweetened vegetable milk

1 teaspoon baking powder

1 teaspoon ground cinnamon


0.5 teaspoon ground nutmeg

1 tablespoon vanilla extract


2 cups (2 medium) apple slices
Instructions
Turn the oven at 180 ° C / 350 ° F. Put parchment on the walls and bottom of the form 20×20 cm.

In a bowl, combine whole wheat flour, almond flour, coconut sugar, baking powder, cinnamon, and nutmeg.
Cut the apples into 5 mm cubes and add to the flour mixture.

Add to bulk water, refined olive oil, vanilla extract.

Place the dough in a mold and bake for 30 minutes, until the blondies apple is lightly browned and firm.

Remove from the oven and chill apple blondies on a wire shelf. Cut the blondies into 16 pieces.

Enjoy!
Store apple blondies in a tightly closed container in the refrigerator for seven days. For long-term storage, put blondies in the freezer.