These Banana Cranberry Oatmeal Cookies come out with crispy edges and a chewy middle! The pleasant sourness of dried cranberries adds a delicious flavor to the cookies. These vegan cookies are made with gluten-free oatmeal.
The main feature of this recipe is banana puree. I really like adding bananas to baked goods. It gives the cookies a magical flavor. Banana Cranberry Oatmeal Cookies are great for breakfast or a snack. And one more important point. There is no refined sugar in the oatmeal cookie recipe.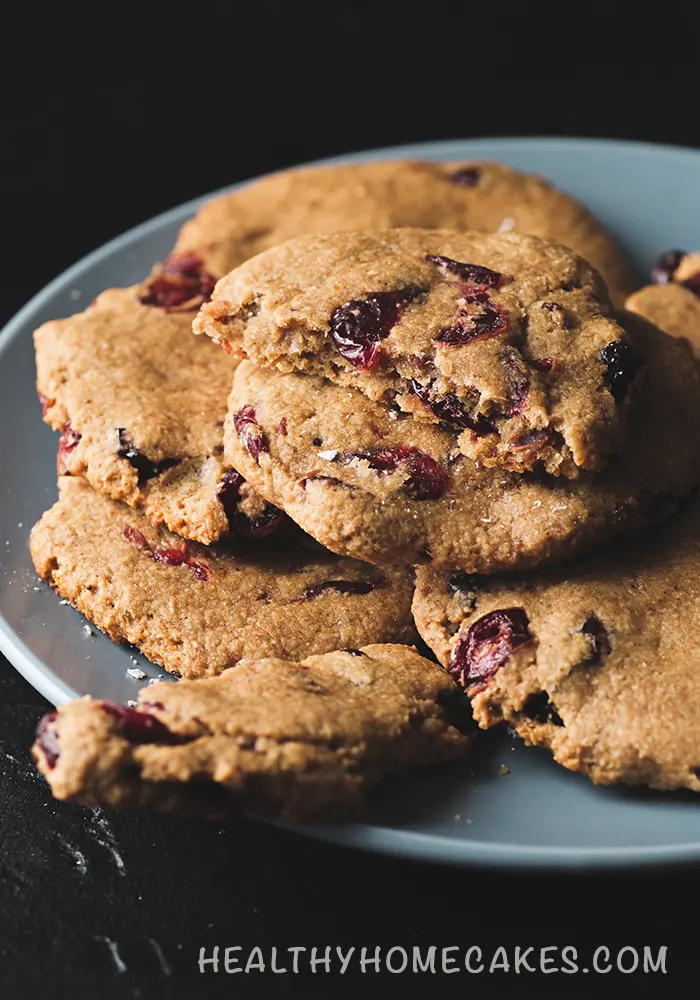 Ingredients for making oatmeal cookies and how to substitute them
To make Banana Cranberry Oatmeal Cookies, you only need six ingredients:
Gluten-Free oatmeal or oat flour. Cookies require oatmeal. After a short storage, it sometimes tastes bitter. So I stopped buying it. And I make Gluten-Free oatmeal flour. To do this, I grind them in a coffee grinder. This can be done in a blender. But in a coffee grinder, grinding is faster.

Banana puree. With this, everything is simple. We take a banana and magically turn it into puree in a blender.

Refined olive oil. Any vegetable oil will work for the recipe. Preferably without additional odor. You can use refined coconut oil.

Coconut sugar for sweetness. Unlike refined sugar, it has a low glycemic index. You can add maple syrup to your recipe instead.

Dried cranberries. There is a little sourness in it. Which creates a contrast to the sweetness of the cookie. If you don't have dried cranberries, you can put raisins in the cookies. But the result will not be the same. Raisins just add sweetness. And I like the contrast of taste.

Baking powder for slightly raising the dough.
You will also need a bowl, parchment and a baking sheet to make cookies. And an oven.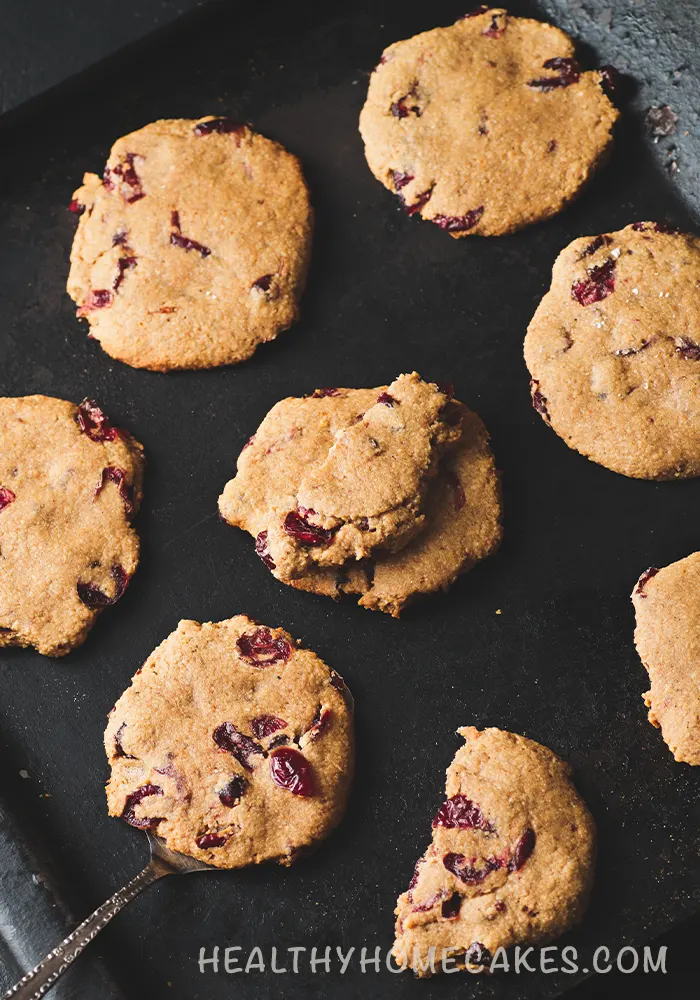 How to Make Vegan Oatmeal Cookies
The process of making Oatmeal Cookies is very simple. It will take only 30 minutes from the beginning to readiness.
Start by grinding the Gluten-Free oatmeal. If you are using oat flour, omit this item. Then send the banana and coconut sugar to the blender. This will quickly dissolve the sugar. And mash. You can also make it with a fork. But then the banana puree will not work even.
Now add baking powder, banana puree, dried cranberries and refined olive oil to the oatmeal. Stir everything until the flour gathers into one lump.
Form a cookie from the finished dough. Choose the size and shape yourself. Take a piece of dough from the total mass. Then place on a baking sheet and press down with your palm. Workpiece thickness approx. 5 mm.
Remember to put some parchment on the baking sheet.
Bake the cookies for 10 to 12 minutes until golden brown. Cool the finished cookies to room temperature.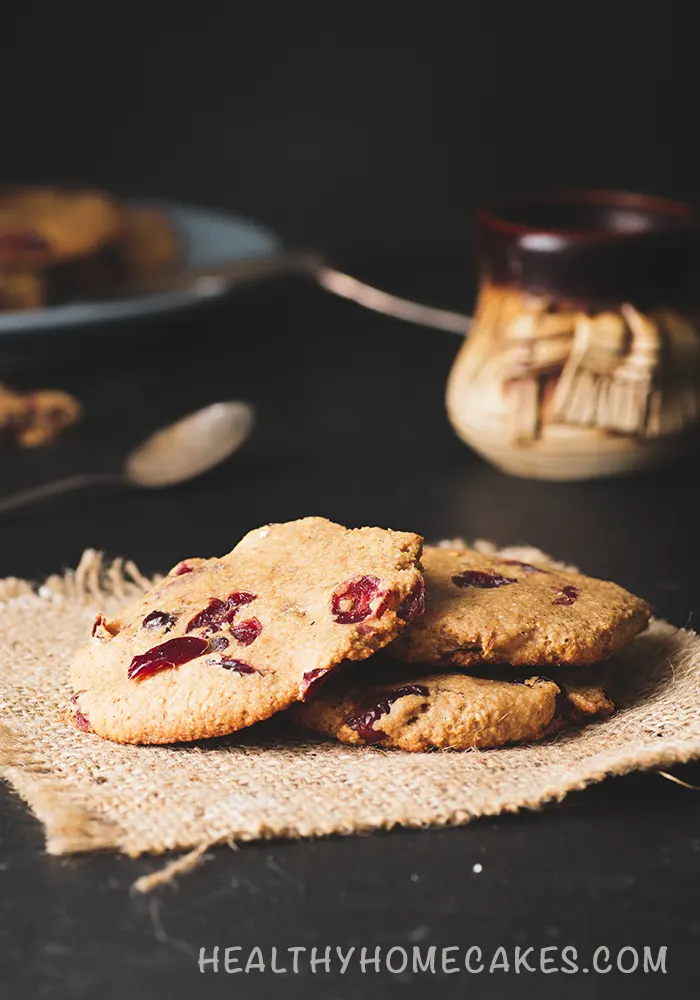 And enjoy a delicious dessert!
Cooking and Storage Tips Banana Cranberry Cookies
Before adding to the dough, I poured hot water over dried cranberries. To make it softer. If your cranberries are not very dry, you can skip this.
Another point with oatmeal. I like to grind them into flour. This will make the cookies softer. But you can not grind the flakes completely. Then the cookie will have a rough texture.
Use a 250 ml beaker to measure ingredients.
Store oatmeal cookies in a sealed container at room temperature for three days and refrigerated for a week.
Do you like oatmeal cookies? Leave your comments.
Enjoy your meal!
Be healthy and love yourself!
Banana Cranberry Oatmeal Cookies (Gluten-Free | Vegan)
Course: Gluten free, Vegan
Ingredients
1.5 cups (150g) oat flour

0.5 cups dried cranberries

1 pc (100g) banana

2 tablespoons refined olive oil

1 tablespoon coconut sugar

0.5 teaspoon baking powde
Instructions
Grind the banana and coconut sugar in a blender.
In a bowl, combine oatmeal, baking powder, dried cranberries, refined olive oil, and mashed banana with coconut sugar.
Place parchment on a baking sheet. Form a freeform cookie.
Bake cookies at 180°C/350°F for about 10 minutes until golden brown.
Remove the oatmeal cookies from the oven and let cool.
Store cookies in a tightly closed container in the room for up to three days and in the refrigerator for a week.
Notes
A glass for measuring ingredients 250 ml.