Immune Dried Fruit Mix are very useful for the prevention of various diseases. They contain many vitamins and mineral salts. A mixture of dried fruits will help you strengthen your immune system and cardiovascular system. It is recommended to take with high physical exertion.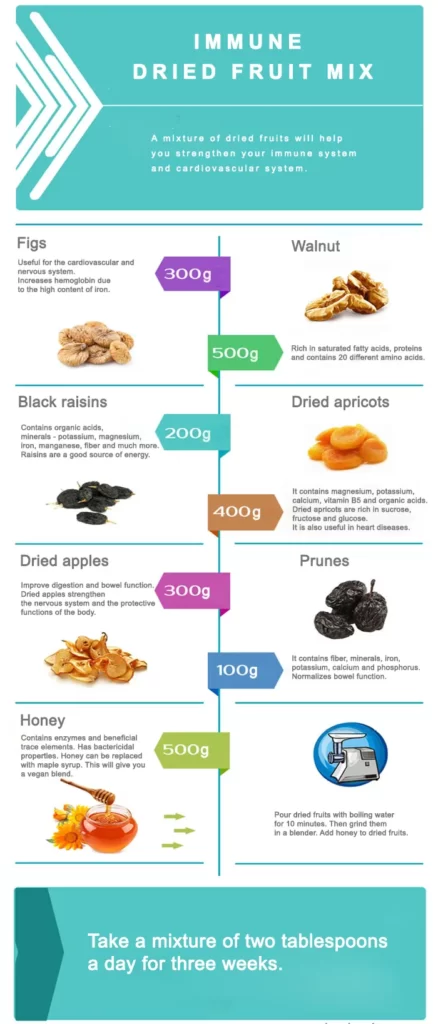 The composition of the Immune Dried Fruit Mix
Figs – 300g. Useful for the cardiovascular and nervous system. Increases hemoglobin due to the high content of iron.

Walnut – 500g. Rich in saturated fatty acids, proteins and contains 20 different amino acids.

Black raisins – 200g. Contains organic acids, minerals – potassium, magnesium, iron, manganese, fiber and much more. Raisins are a good source of energy.

Dried apricots – 500g. It contains magnesium, potassium, calcium, vitamin B5 and organic acids. Dried apricots are rich in sucrose, fructose and glucose. It is also useful in heart diseases.

Prunes – 100g. It contains fiber, minerals, iron, potassium, calcium and phosphorus. Normalizes bowel function.

Dried apples – 300g. Improve digestion and bowel function. Dried apples strengthen the nervous system and the protective functions of the body.
Before preparing the mixture, pour dried fruits with boiling water for 10 minutes. Then grind them in a blender. Add honey to dried fruits. Take a mixture of two tablespoons a day for three weeks.
Store the dried fruit mixture in the refrigerator for seven days. You can also put some of the mixture in the freezer.
Be healthy and love yourself!